Birth & Me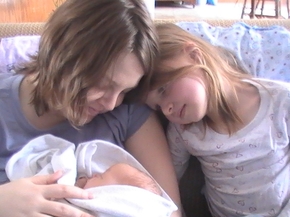 My name is Katy Miller. I am a mother of three, an avid gardener, and a trained labor assistant.

The first time I gave birth, I was young and uninformed, with no idea what to expect from pregnancy, labor, birth or a baby. As I entered my second day of labor, my progress had "stalled" and it was suggested to me that I have a cesarean, for the safety of my baby. I tearfully agreed to the surgery, not ready to give up on labor, but exhausted and worried about my daughter's health.

As I dealt with the sadness I had about this experience, I educated myself about modern labor and birth. I found that with more information and a little bit of support, my cesarean might have been avoided.

A little over a year after becoming a mother myself, I set out to help other mothers. I had heard of doulas during my first pregnancy, but was unsure about them and had worried about the extra cost. I realized that my birth might have gone much differently if I had hired a doula, and that I could help other women have better births if I became a doula myself. I completed my training and started attending births and realized that I had found more than an occupation; I had found a vocation.

My cesarean baby is twelve years old now, and I've had two more children, both homebirth VBACs (Vaginal Birth After Cesarean). I have helped other women and healed myself. Having seen the difference that a well-informed birth attendant who supports a laboring mother's choices can make, I am passionate about nurturing and empowering maternity care.

I have practiced as a doula for the past thirteen years, initially completing DONA's (Doulas of North America) required doula training workshop in 2004. In 2009, I attended a Prenatal Massage workshop at the Boulder School of Massage Therapy. I became a Certified Labor Doula (CAPPA) in December of 2012 and a Certified Childbirth Educator (CAPPA) in June 2013. I am trained in Adult and Child CPR and Neonatal Resuscitation.

Through my doula experiences, I have come to realize that midwifery care is an excellent option for the majority of women to have safe and satisfying births. I was accepted into the Midwives' College of Utah, a distance learning program, in 2014 and have completed almost all of the academic requirements for an Associates Degree in Midwifery. Since 2015, I have been actively apprenticing as a student midwife, with the ultimate goal of becoming a Certified Professional Midwife.

---